Mystery Lake – Roopkund
Roopkund is situated in Chamoli district of Garhwal at a height of 5029m and is set beneath the towering summit on the lap of Trishuli massif (7120m).
Here you can find over 300 mysterious human skeletons and remains of horses which are more than 500 years old; hence this area is usually referred to as the 'mystery lake'.
The lake is surrounded by rock-strewn glaciers and snow clad white peaks. The trek of Roopkund passes through lush green grassy lands and coniferous forests clinging onto the slopes of hills. The trek thereafter winds its way along the Pindar River. Various theories have been proposed about to the calamity which must have deposited them here. One of it claims a group of pilgrims en route to Hemkund to worship Nanda Devi, lost their footing and tumbled down into the icy depths of the lake. This reminder of these long-dead pilgrims presents a rather macabre spectacle, the grim and gruesome atmosphere enhanced by the desolate nature of the landscape. The highest Point is 4620m (Roopkund). Come to witness the mystery as it unfolds before your eyes!!!
Itinerary
Day 01
Reach New Delhi and proceed to Old Delhi Railway station. Overnight train journey to Haridwar.
Day 02
Arrive at Haridwar, check in to hotel. After freshening up drive to Harki Paudi where one can take a holy dip in the Ganges. Post lunch drive to Gwaldham
200 Kms. – 10 Hrs.
First views of snow clad Nanda Gunti and Trishul peaks
Day 03
Drive to Lohajung 40 kms and proceed towards Wan in a shuttle taxi. Wan is the last motorable village on the trek to Roopkund.
Wan is the first camping point on the trek to Roopkund.
Camp 1 in tents.
Day 04
Begin the uphill trek and reach the 'Bugyals' (high altitude meadows) of Bedini ( 3354m ) – a beautiful location with magnificent view of the surrounding mountains.
There is a small lake situated in the midst of the meadow, where Tarpans are offered by the devotees. Situated nearby is a small temple where the devotees pay there obeisance, during their halt at Bedni Bugyal.
Bedni Bhugyal is the largest meadow of its kind in Uttarakhand.  Excellent reflection photos can be got of Trishul peak from Bedni.
10 Kms – 6 Hrs.
Camp 2 in tents.
Day 05
Trek from Bedni Bugyal to Baguabasa.
Trek from Bedni to Bhagubasa is a complete uphill climb. One has to walk slowly and get acclimatized to the rarefied atmosphere.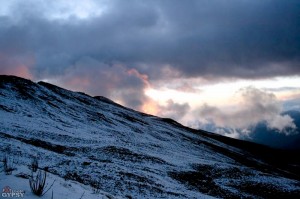 Enroute to Bagubasa a small temple of Kalluvinayak is present. Kalu Vinayak gets its name from the black Ganesh idol enclosed in a stone shrine just as you finish the climb from Ghora Lotani. Everyone offers a prayer here for a safe pilgrimage to Roopkund.
The trail from Kalu Vinayak to Bhagwabasa is easy and gently sloping downwards.
From Bahgubasa one can view Chaukamba, Neelkanth and Nanda Gunti from close quarters.
Camp 3 in tents.
Day 06
Post breakfast leave early to Roopkund (15,500 ft).
Trek to the mysterious 'Pond of Beauty'- Roop Kund (5029m) lies close to the base of the Trishul (7120m) and Nanda Ghungti (6310m) Peaks.
Roopkund the mystery lake is 5 kms from Bhagubasa, at Roopkund a large number of Human skeletons are found and anthropologists are still working on its signifcance. The lake however is nestled amidst panoramic mountain scenery. After spending a while at Roopkund descend town to Bhagubasa for night halt.
Camp 4 in tents.
Day 07
Baguabasa to Alibugyal.
From Bhagwabasa descend  down to Ali Bugyal is another Alpine like meadow that is just as charming as Bedni .
5 kms- 4 hours
Camp 5 in tents.
The descent from Ali to Didana is easy and we pitch up close to a river.
8 Kms – 6 Hrs.
Camp 6 in tents.
Day 09
Didana  to Lohajung
Trek from Didan to Lahajung takes around 4 hours. At Lohajung one can treat themselves to Chowmein and other delicacies.
10 Kms – 5 Hrs.
Drive to Gwaldam. Halt at a hotel
Day 10

Gwaldam to Marine drive. White water rafting in Alakananda river for 9 Kms (Marine drive to Shivpuri) .Get off the raft at Shivpuri and continue journey to Haridwar.
Overnight journey to Old Delhi by Mussourie Express.
Day 11
Reach New Delhi. Check in to the Hotel
End of package.
Note: Journey by SUV Toyota Innova / Scorpio.
Individual to carry their own Rucksacks.
Stay in tent on Triple sharing basis.
Permits, equipments, transport and food all inclusive.
Train Journey by sleeper II tier.
Download Mystery lake Roopkund Itinerary
—————————————————————————————————————
Privacy Policy
Footloose Gypsy is committed to maintaining the privacy of personal information that you provide to us when using the Footloose Gypsy website. This Privacy Policy describes how we treat personal information received about you when you visit www.footloosegypsy.in. We may make content or services from other web sites including our co-branded web sites available to you from links located on http://www.footloosegypsy.in. These other web sites are not subject to this Privacy Policy. We recommend that you review the privacy policy at each such web site to determine how that site protects your privacy.
Privacy Policy Promise
While information is the cornerstone of our ability to provide superior service, our most important asset is our clients' trust. Keeping client information secured, and using it only as our clients would want us to, is a top priority for all of us at Footloose Gypsy. Here then, is our promise to our individual customers:
We will safeguard, according to strict standards of security and confidentiality, any information our customers share with us.
We will limit the collection and use of customer information to the minimum we require to deliver superior service to our customers, which includes advising our customers about our products, services and other opportunities, and to administer our business.
We will permit only authorized employees, who are trained in the proper handling of customer information, to have access to that information. Employees who violate our Privacy Promise will be subject to our normal disciplinary process.
We will not reveal customer information to any external organization unless we have previously informed the customer in disclosures or agreements, or are required by law.
We will always maintain control over the confidentiality of our customer information. We may, however, share customer information with reputable companies when a customer has expressed an interest in their service or product. Please note that this Privacy Policy does not apply to these other company's use of customer information.
Whenever we hire other organizations to provide support services, we will require them to confirm to our privacy standards and to allow us to audit them for compliance.
We will attempt to keep customer files complete, up-to-date, and accurate. We will tell our customers how and where to conveniently access their information (except when we're prohibited by law) and how to notify us about errors which we will promptly correct.
Information We Collect
General: When you register, and at other times, we may collect personally identifiable information from you that may include your name, address, telephone number, e-mail address, and facts about your computer. We do not, however, knowingly collect personal information from children under the age of thirteen. In addition, if a user is under 18, unless consent is obtained from your parent/guardian, you are not allowed to provide us with personal information.
Web Site Usage Information: We automatically collect IP addresses and Web site usage information from you when you visit our Web site. This information helps us evaluate how our visitors and customers use and navigate our Web site on an aggregate basis, including the number and frequency of visitors and customers to each Web page, and the length of their visits.
How We Use Information Collected
We may use information in the following ways:
For the purposes for which you specifically provided the information.
To send you e-mail notifications about our new or existing products and services, special offers, or to otherwise contact you.
To enhance existing features or develop new features products and services.
To allow us to personalize the content and advertising that you and others see based on personal characteristics or preferences.
We may combine the information that we collect from you on http://www.footloosegypsy.in with information that you provide to us in connection with your use of our other products, services and web site.
We may disclose and use personally identifiable information in special circumstances where it is necessary to enforce our Terms of Use (for example, when necessary to protect our intellectual property rights). We may also disclose or use your personal information when we, in good faith, believe that the law requires us to do so.
Cookies
We employ cookie technology to help visitors and customers move faster through our site. When you sign on to our Web site or take advantage of several key features, we may pass cookies to your computer. A cookie is a string of information that is sent by a Web site and stored on your hard drive or temporarily in your computer's memory.
Security
The personally identifiable information we collect about you is stored in limited access servers. We will maintain safeguards to protect the security of these servers and your personally identifiable information.
Internet-based Transfers
Given that the Internet is a global environment, using the Internet to collect and process personal data necessarily involves the transmission of data on an international basis. Therefore, by browsing http://www.footloosegypsy.in and communicating electronically with us you acknowledge and agree to our processing of personal data in this way.
Policy Modifications
We may change this Privacy Policy from time to time. We will post any changes here, so be sure to check back periodically. However, please be assured that if the Privacy Policy changes in the future, we will not use the personal information you have submitted to us under this Privacy Policy in a manner that is materially inconsistent with this Privacy Policy, without your prior consent.
Terms & Conditions
Booking Policy
1) Booking must be confirmed with 100 % payment before the trip.
2) To incorporate any changes to the itinerary before or during travel, full payment for the changes must be made.
3) We are sorry to inform you that Footloose Gypsy cannot be held accountable nor will bear the expenses / or loss of expenses therein for any changes / damages caused due to natural calamities, political unrest, erratic weather and personal health problems.
Cancellation Policy
1) Footloose Gypsy's cancellation policy applies only to the overhead costs and margins incurred.
i) 30 – 45 days prior to departure: 70% refund
ii) 15 days prior to departure: 50 % refund
iii) Less than 15 days / No-show: No refund
2) For all other costs, incurred where private companies have been engaged for travel and accommodation (includes flights, taxis, hotels, resorts, etc), their cancellation policies will apply and refunds will be allocated accordingly. Permits, visas and other legal documentation cannot be reimbursed.
Cancellation should be confirmed by mailing: amishms@footloosegypsy.in or by calling Amish Shah at +91-9922939584