Unexplored North-east
Here's a quick way in which you can tailor-make your holidays, pick the access and exit points that are most convenient, throw in a few activities and stopovers of interest, give us your budget outline, and we'll do the rest!
Access points – from where would you like to start your journey to north-east?
Arrive at Guwahati, Assam airport
Arrive at Shillong, Meghalaya airport
Stopovers – all the local places of interest
Arunachal Pradesh
En route from Guwahati – Tezpur – Bomdila – Dirang – Tawang, Arunachal Pradesh:
Tipi Orchid centre: amidst the last vestiges of Arunachal Pradesh's cloud forests, a wide variety of orchids await scientific study. The Tipi Orchid Centre showcases more than 7500 orchids plants representing 550 species from the region, some of them so rare that they flourish only in north-east India and nowhere else on Earth.
Se La Pass: Se La pass located 13,700 ft above the sea level, is one of the high mountain passes en route to Tawang in Arunachal Pradesh. Its proximity to China, and the 101 sacred lakes in the region lend it a rich historical and cultural significance.
Jaswant Garh: a memorial erected to a brave soldier, Jaswant Singh Rawat, who single-handedly tried to hold off the approaching Chinese from the pass during the 1962 Sino-Indian War.
Jung Falls: 35 kms from Tawang, the Jung Falls, sourced from glacial lakes and streams cascades steeply into the forested valley below. Little wonder it was chosen as a backdrop for the movie, "Koyla".
Hot water springs, Sangti Valley: This seismically active landscape also gives birth to some hot water springs, a must-visit as the sulphur-rich waters allow for a relaxing and curative dip. The Sangti river in the West Kameng region of Arunachal Pradesh also plays host to the migratory Black-necked Crane, a species that breeds on the Tibetan Plateau but winters in India and Bhutan.
Runkhung Apple and Kiwi Garden: with horticulture becoming an important livelihood in the Dirang, despite reputed quality and good market value, very little of the local produce finds its way to wider markets. At the Runkhung Apple and Kiwi Garden, one can see the role horticulture plays in the lives of the locals and sample the ripe produce of the valley.
Tawang, Arunachal Pradesh:
Tawang Monastery: with a 400 year old history, the Tawang Monastery, the largest outside Tibet, and India's largest monastery is witness to the Tibetan exodus. The Assembly Hall or Dukhang, houses a 27 ft high statue of a Golden Buddha, and several priceless Thangka paintings and the three-storied Parkhang library hosts a rich collection Kangyur scriptures and other invaluable manuscripts.
Thukje Chueling Ani Gompa:  though a rather recent construction, the Thukje Chueling Ani Gompa is unusual in that it is a nunnery, a Buddhist centre for female monks. Located at the top of a hill, looking down over the Tawang valley, the nunnery makes up with vivid colour what it lacks in size. It provides an interesting insight into Buddhist views on women and the lives of its women monks.
Tawang War Memorial or Namgyal chorten: Tawang's strategic location between China and India, and the access from one country to the other via the mountain passes has made this a hotbed of political and military conflict. It was the stage for the Sino-Indian war of 1962, and saw the invasion of the Chinese and the martyrdom of many Indian soldiers. The Tawang War Memorial is a 40-foot high chorten with the names of 2420 dead soldiers etched in gold on 32 black granite plaques, and stands witness to our violent history with China.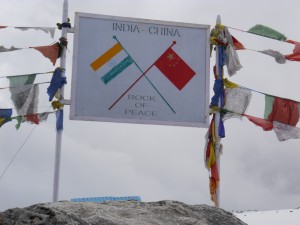 Bum La Pass: 45 kms from Tawang at an altitude of 16,500 feet, the Bumla pass straddles the Indo-China border, and has made history because of its geopolitical location. The pass was used by the Dalai Lama to seek refuge in India after China invaded Tibet. Later, it was also one of the principal invasion routes during the 1962 Sino-Indian war.
Sungester Tso / Madhuri lake: at 14,500 feet, is a lake formed in 1950 by a major earthquake. It is better known as Madhuri Lake after the Bollywood actress who came here for a shoot of the film "Koyla".
Assam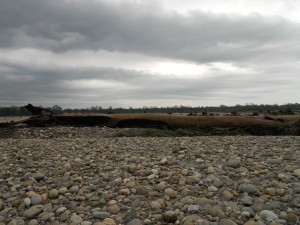 Nameri National Park: The floodplains of the Brahmaputra, with its semi-evergreen forests and grasslands, have allowed biodiversity to thrive. Nameri National Park, established as an elephant reserve, also shelters other species like tigers, leopards, sambars, dholes (the Asiatic wild dog), pygmy hogs, muntjac, gaur, wild boar, sloth bear, Himalayan black bear, capped langur and Indian giant squirrel. It is also a rich birding site hosting over 300 species throughout the year, among the most famous, white winged wood ducks, great pied hornbills, wreathed hornbills, rufous necked hornbills, black storks, ibisbills, blue-bearded bee-eaters and many others.
Kaziranga National Park: Kaziranga grasslands, located on the banks of the Brahmaputra river are one of the last refuges in the world for the endangered one-horned rhino. The government's commitment to preserving its biodiversity was amply demonstrated when it resorted to militant conservation: it provided its patrol with artillery and shoot-at-sight orders, to prevent poaching. This was an unparalleled success in the history of the species, and saw a rapid growth of rhino numbers. Kaziranga was made a Tiger Reserve in 2006, is globally recognized as an Important Bird Area by Birdlife International and was declared a World Heritage Site in 1985 by UNESCO. A must-visit for the spectacular biodiversity and unparalleled views of the Brahmaputra.
Meghalaya
Guwahati: Kamakhya Temple, a fertility temple dedicated to Sati, the wife of Rudra (an earlier incarnation of Shiva). Legend has it, that the father of Sati, never too happy with her choice of husband, organised a yagna (sacrifice) and did not invite Rudra. Enraged at the insult of her husband, Sati threw herself on the yagna fire (the Sati practice, corrupted over time that demanded the sacrifice of a widow on the pyre of her husband). By the time Rudra arrived at the yagna, it was too late and her body was consumed by flames. While carrying her remains back to the mountains where they resided, parts of her fell along the way. The Kamakhya temple arose in the spot where her womb fell, hence its renown as a fertility temple. More gruesome folklore has it that the foundations were also erected on human sacrifices. Colourful myth and present-day faith make this an important pilgrimage site. The Umananda temple, dedicated to Lord Shiva is built upon the peacock island in the middle of the river Brahmaputra and can be accessed only by ferries and private boats. The temple bears another curious legend about Lord Shiva in his avatar as Bhayananda.
Shillong sightseeing: Shillong is a beehive town, connecting the busy cities of the north-east with its far-flung, forested and unexplored realms. Recent discovery of coal veins in the area have made this town a thoroughfare for mining trucks, yet it retains its charm and colonial past. Sightseeing includes Shillong Peak (a picnic spot atop a peak that offers splendid views of Shillong city and thick pine forests), Elephant Falls (a steep cascade named for a former resemblance to an elephant), Ward's Lake (the epicenter of colonial development in Shillong), St Mary's Cathedral (a witness to the Christian influence across north-east India), Don Bosco Museum (showcasing indigenous culture through the tribal artefacts of 7 north-east states), local archery center and the Police Bazar market for some local shopping. The most interesting aspect of Shillong is its folklore, every attraction has quirky stories often related by signboards or garrulous locals, stories about the Khasi tribe and the region's christian past also abound.
Mawlynnong village: this tiny village tucked away in the thick north-eastern forests would have been almost forgotten were it not for the determination of its inhabitants. They decided to put Mawlynnong on the map as the cleanest village in Asia, a marked achievement in a country that ranks as one of the dirtiest in the world. A bamboo watchtower,
named sky-viewpoint overlooks the plains of Bangladesh and the sinuous channel of a river as it crosses over. The local market of Tamabil, a nearby village trades products from Bangladesh and India, and is a most interesting cultural experience. The Mawlynnong balancing rock (a geological peculiarity), a waterfall (with only a post-monsoon flow), and a living root bridge (natural and cultural heritage bridges constructed with the roots of living ficus trees) form part of the sightseeing circuit.
Shillong to Cherrapunjee: The Cherrapunjee sightseeing circuit includes Nohkalikai Falls (India's tallest plunge waterfall creates little rainbows as it plunges into the valley. Signboards here also narrate folklore through poems), Mawsmai limestone caves (a labyrinth of stalactites and stalagmites sculpted by the heavy rainfall into the limestone rocks), Seven Sisters' falls (or Nohsngithiang falls if you want to twist your tongue, with a 7 segmented cascade) and Eco Park (Bangladesh plains seen from a viewing point atop a cliff).
Cherrapunjee: nearly lost within the lush green forests of Meghalaya, is the history and culture of the Khasi tribe. The arrival of Christianity gave the Khasi language a script (their folklore animatedly explains how they lost their script) and helped transcribe folklore into indigenous knowledge. Being a tribe constantly at war with the other forest tribes, dwelling in thick forests of high rainfall broken up by innumerable rivers and streams, the resourceful Khasis constructed bridges across gushing channels with the living roots of the rubber tree (Ficus elastica). Their constructions proved so hardy and effective that several were constructed throughout the forest. A trek to discover the root bridges in a forgotten forest, crossing streams and lakes of sapphire blue (rendered so by the unusual limestone geology) leading to villages peppered with orange trees, across glades with bewildering numbers and colours of butterflies makes for a truly enchanting experience.
Activities – all the crazy activities that we can organise for you, to add some adventure to your journey
Jeep and elephant safaris (Nameri and Kaziranga National Parks): then high visibility of the biodiversity at Nameri and Kaziranga make jeep and elephant safaris a lot more interesting.
Bird-watching (Arunachal Pradesh, Assam and Meghalaya): for the birdwatchers, north-east's endemic bird populations await discovery, through sight and sound.
Local shopping at Tamabil market on the Bangladesh border and at Police Bazaar in Shillong: what better way to partake culture than shopping for local produce at small markets. Learn about the livelihoods and the local handicrafts, at the marketplace. More interestingly, being so close to international borders, an assortment of goods from different countries can be bought.
Local sightseeing in Tawang, Guwahati, Shillong and Cherrapunjee: as the north-east India has recently been put on the tourist maps, local sightseeing is a great overview of these lesser-known places.
Trekking, fishing, caving, rock-hopping and geocaching in Cherrapunjee: for the adventurous, Cherrapunjee offers trekking, fishing, caving (exploring the limestone-cave landscape), rock-hopping (jumping from one smooth river boulder to another, definitely more difficult than it sounds) and geocaching (a newly emerged concept of a treasure hunt, using a GPS or other navigational tools to locate place-markers).
Accommodation – there is a variety of accommodation available at each stopover, as per your budget, we can suggest the most viable for your journey
Exit points – where would you like your journey to end?
Guwahati airport, Assam
Shillong airport, Assam
—————————————————————————————————————
Privacy Policy
Footloose Gypsy is committed to maintaining the privacy of personal information that you provide to us when using the Footloose Gypsy website. This Privacy Policy describes how we treat personal information received about you when you visit www.footloosegypsy.in. We may make content or services from other web sites including our co-branded web sites available to you from links located on http://www.footloosegypsy.in. These other web sites are not subject to this Privacy Policy. We recommend that you review the privacy policy at each such web site to determine how that site protects your privacy.
Privacy Policy Promise
While information is the cornerstone of our ability to provide superior service, our most important asset is our clients' trust. Keeping client information secured, and using it only as our clients would want us to, is a top priority for all of us at Footloose Gypsy. Here then, is our promise to our individual customers:
We will safeguard, according to strict standards of security and confidentiality, any information our customers share with us.
We will limit the collection and use of customer information to the minimum we require to deliver superior service to our customers, which includes advising our customers about our products, services and other opportunities, and to administer our business.
We will permit only authorized employees, who are trained in the proper handling of customer information, to have access to that information. Employees who violate our Privacy Promise will be subject to our normal disciplinary process.
We will not reveal customer information to any external organization unless we have previously informed the customer in disclosures or agreements, or are required by law.
We will always maintain control over the confidentiality of our customer information. We may, however, share customer information with reputable companies when a customer has expressed an interest in their service or product. Please note that this Privacy Policy does not apply to these other company's use of customer information.
Whenever we hire other organizations to provide support services, we will require them to conform to our privacy standards and to allow us to audit them for compliance.
We will attempt to keep customer files complete, up-to-date, and accurate. We will tell our customers how and where to conveniently access their information (except when we're prohibited by law) and how to notify us about errors which we will promptly correct.
Information We Collect
General: When you register, and at other times, we may collect personally identifiable information from you that may include your name, address, telephone number, e-mail address, and facts about your computer. We do not, however, knowingly collect personal information from children under the age of thirteen. In addition, if a user is under 18, unless consent is obtained from your parent/guardian, you are not allowed to provide us with personal information.
Web Site Usage Information: We automatically collect IP addresses and Web site usage information from you when you visit our Web site. This information helps us evaluate how our visitors and customers use and navigate our Web site on an aggregate basis, including the number and frequency of visitors and customers to each Web page, and the length of their visits.
How We Use Information Collected
We may use information in the following ways:
For the purposes for which you specifically provided the information.
To send you e-mail notifications about our new or existing products and services, special offers, or to otherwise contact you.
To enhance existing features or develop new features products and services.
To allow us to personalize the content and advertising that you and others see based on personal characteristics or preferences.
We may combine the information that we collect from you on http://www.footloosegypsy.in with information that you provide to us in connection with your use of our other products, services and web site.
We may disclose and use personally identifiable information in special circumstances where it is necessary to enforce our Terms of Use (for example, when necessary to protect our intellectual property rights). We may also disclose or use your personal information when we, in good faith, believe that the law requires us to do so.
Cookies
We employ cookie technology to help visitors and customers move faster through our site. When you sign on to our Web site or take advantage of several key features, we may pass cookies to your computer. A cookie is a string of information that is sent by a Web site and stored on your hard drive or temporarily in your computer's memory.
Security
The personally identifiable information we collect about you is stored in limited access servers. We will maintain safeguards to protect the security of these servers and your personally identifiable information.
Internet-based Transfers
Given that the Internet is a global environment, using the Internet to collect and process personal data necessarily involves the transmission of data on an international basis. Therefore, by browsing http://www.footloosegypsy.in and communicating electronically with us you acknowledge and agree to our processing of personal data in this way.
Policy Modifications
We may change this Privacy Policy from time to time. We will post any changes here, so be sure to check back periodically. However, please be assured that if the Privacy Policy changes in the future, we will not use the personal information you have submitted to us under this Privacy Policy in a manner that is materially inconsistent with this Privacy Policy, without your prior consent.
Terms & Conditions
Booking Policy
1) Booking must be confirmed with 100 % payment before the trip.
2) To incorporate any changes to the itinerary before or during travel, full payment for the changes must be made.
3) We are sorry to inform you that Footloose Gypsy cannot be held accountable nor will bear the expenses / or loss of expenses therein for any changes / damages caused due to natural calamities, political unrest, erratic weather and personal health problems.
Cancellation Policy
1) Footloose Gypsy's cancellation policy applies only to the overhead costs and margins incurred.
i) 30 – 45 days prior to departure: 70% refund
ii) 15 days prior to departure: 50 % refund
iii) Less than 15 days / No-show: No refund
2) For all other costs, incurred where private companies have been engaged for travel and accommodation (includes flights, taxis, hotels, resorts, etc), their cancellation policies will apply and refunds will be allocated accordingly. Permits, visas and other legal documentation cannot be reimbursed.
Cancellation should be confirmed by mailing: amishms@footloosegypsy.in or by calling Amish Shah at +91-9922939584