Kinnaur – Spiti
Here's a quick way in which you can tailor-make your holidays, pick the access and exit points that are most convenient, throw in a few activities and stopovers of interest, give us your budget outline, and we'll do the rest!
Access points – from where would you like to start your journey to Kinnaur – Spiti?
Chandigarh airport, Chandigarh
Stopovers – all the local places of interest
Drive from Chandigarh to Shimla: The Kinnaur – Spiti trail kicks off from Shimla, and a pleasant 3 hour drive over winding roads. Chandigarh's agricultural plains are replaced along the way by the precipitous slopes and pine forests, and Shimla's colonial past and old-world charm greets the traveller.
Drive from Shimla to Sarahan:
One of Shimla's trunk roads carves its way through rugged terrain, gurgling streams and thick pine forests towards Sarahan, a small town perched halfway upon a mountainside. Little villages with slate-roofed houses dot the pastoral countryside and orchards fed by the river Sutlej. En route, Narkanda opens up the gateway into Himalayas apple county, and Rampur straddles between a history on the trade route between India, Tibet and China and its present-day role as a commercial hub of Himachal Pradesh. Sarahan, with its rich folklore and forest wisdom awaits the intrepid traveller.
Sightseeing in Sarahan
Shrikanda Mahadev Peak (5227m, 17150 ft): Seemingly, the Shrikhanda Mahadev peak is the only remnant of a blast connected with the story of Mohini (an avatar of Vishnu), the vanquishing of an Asur, Bhasmasur (a demon, bestowed with the boon of turning anything he touched to ash, who was finally outwitted into placing his hand upon his own head), and Shiva's narrow escape from the scene. One of India's revered natural shivlangams lies at the peak, and every July sees a Holy Yatra wend its way to the treacherous top.
Bhimkali Temple: A temple dedicated to the goddess Bhimkali, the presiding deity of the former ruler of the Bushahr state. Folklore claims that the ear of goddess Sati fell at the location, and she is worshipped in her virgin form here. With an unusual architecture, rich wooden carvings and tangled myth, this place is an interesting visit for the religious and non-religious alike.
En route from Sarahan to Sangla Valley:
Kinnaur Kailash Peak: Considered sacred by both Hindues and Buddhists, the Kinnaur Kailash peak is considered to be one of the mythical abodes of Lord Shiva. Another peak which bears the legend of Bhasmasur, and sees the worship of Lord Shiva.
Kamru Fort: A series of gates leads one into the Kamru fort, one of the oldest forts in Himachal Pradesh. The Kamru fort, on the banks of river Bapsa, overlooks the Sangla valley, ablaze with saffron fields fed by glacial streams. The fort hosts a statue of Lord Buddha, Kamakhya Devi and Lord Badrinath, each drawing pilgrims year-round.
Bering Nag Temple: The Bering Nag is dedicated to Lord Jagas, and is famous for its Fulaich Fair (a flower festival) celebrated every year between the months of August and September.
Sangla to Chitkul (via Batseri, Rakcham and Mastrang villages): The route from Sangla to Chitkul, over the Hindustan Tibet Border Road is a scenic one that winds its way through precipitous snow-capped mountains, lush valleys and fruit orchards. Little villages like Batseri, Rakcham and Mastrang, each with their own folklore and huddle of tea-shops, make the journey interesting. As this route still does not feature on most travel sites, nor government tourism itineraries, a truly offbeat experience awaits the intrepid traveller.
RecongPeo Monastery: A daytrip from Kalpa brings one to the Recong Peo monastery, a modern Buddhist construction of 1992 for the Kalachakra ceremony, performed by the Dalai Lama. A 10 metre statue visible from a fair distance, acts as a beacon for pilgrims and travellers alike.
Kalpa to Tabo: The drive from Kalpa, a small heritage town to Tabo follows the Sutlej River. En route the Nako Lake, the highest lake in the valley fed by glacial melts and fringed with poplars and willows, is a rare treat. Legend claims it to be a "heavenly realm of fairies", and tales of Guru Padmasambhava abound.
Beyond legend, the Gue village en route has another secret to share: the only natural mummy in India. Sangha Tenzin, a monk who  voluntarily agreed to be mummified 500 years ago, to rid his village of scorpions, was discovered when new construction was undertaken. Natural mummification, is a difficult process and scriptures detail the requirements, dietary and climatic, to delay the body's decay, a truly rare esoteric practice.
The Tabo village is an ancient village lying on the bank of Spiti River. The Tabo Monastery, the oldest and archaeologically most important monastery of Spiti shelters the most sacred shrine of Gankhang within. It also hosts beautiful Buddhist paintings, lending Tabo monastery the epithet, Ajanta of Himalayas.
Tabo to Kaza: On a journey between Tabo and Kaza, the Dhankar Monastery, the old capital of Spiti valley, is an interesting stopover. Built as one of many fort monasteries in the region,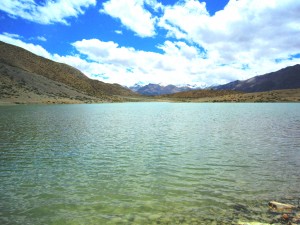 Dhankar was once the residence of the King of Spiti . As a result of plundering through the ages, the monastery contains very few important statues, scriptures or thangkas. Yet the scenic location and sanctity of the place, lend it a solemnity few monasteries have. A one-and-a-half hour walk through the lunar landscape can bring one to the Dhankar sacred Lake.
Kaza: Despite repeated attacks by Mongols, the Key Monastery (or Key Gompa), stands witness to the turbulence across state borders. Perched high on a pyramid-shaped mountain, overlooking the Spiti river valley, the Key monastery continues to be an important religious training centre. A further drive through a narrow valley carved into a limestone outcrop, takes one to Kibber Village, the highest motor-connected village in the world. The nearby Kibber monastery and Kibber Wildlife Sanctuary, offer insights into Buddhist life and the scriptures contain rich medicinal knowledge about the local uses of forest species.
Kaza to Chandertal: Formed by a glacier on its descent, the Chandertal (literally meaning the Lake of the Moon) is situated at an altitude of 4,300 m or 14,100 feet. This cirque, girded by scree mountains, has been given conservation significance as a Ramsar wetland.
Chandertal  to Manali: The drive back from Chandertal to Manali, cuts across the Kunzum pass (4551m) and the Rohtang pass (4501m). Offering panoramic views of the Bara – Shigri Glacier and about a dozen peaks over 6000m, the route will keep any dozing visitor wide awake. A journey that makes one feel like they have touched the ceiling of the world!
Activities – all the crazy activities that we can organise for you, to add some adventure to your journey
As the Kinnaur – Spiti trail is an offbeat, scenic one, the main activity is that of scenic drives. Visits to monasteries, temples and other cultural escapades await.
Accommodation – there is a variety of accommodation available at each stopover, as per your budget, we can suggest the most viable for your journey
Exit points – where would you like your journey to end?
Chandigarh airport, Chandigarh
—————————————————————————————————————
Privacy Policy
Footloose Gypsy is committed to maintaining the privacy of personal information that you provide to us when using the Footloose Gypsy website. This Privacy Policy describes how we treat personal information received about you when you visit www.footloosegypsy.in. We may make content or services from other web sites including our co-branded web sites available to you from links located on http://www.footloosegypsy.in. These other web sites are not subject to this Privacy Policy. We recommend that you review the privacy policy at each such web site to determine how that site protects your privacy.
Privacy Policy Promise
While information is the cornerstone of our ability to provide superior service, our most important asset is our clients' trust. Keeping client information secured, and using it only as our clients would want us to, is a top priority for all of us at Footloose Gypsy. Here then, is our promise to our individual customers:
We will safeguard, according to strict standards of security and confidentiality, any information our customers share with us.
We will limit the collection and use of customer information to the minimum we require to deliver superior service to our customers, which includes advising our customers about our products, services and other opportunities, and to administer our business.
We will permit only authorized employees, who are trained in the proper handling of customer information, to have access to that information. Employees who violate our Privacy Promise will be subject to our normal disciplinary process.
We will not reveal customer information to any external organization unless we have previously informed the customer in disclosures or agreements, or are required by law.
We will always maintain control over the confidentiality of our customer information. We may, however, share customer information with reputable companies when a customer has expressed an interest in their service or product. Please note that this Privacy Policy does not apply to these other company's use of customer information.
Whenever we hire other organizations to provide support services, we will require them to conform to our privacy standards and to allow us to audit them for compliance.
We will attempt to keep customer files complete, up-to-date, and accurate. We will tell our customers how and where to conveniently access their information (except when we're prohibited by law) and how to notify us about errors which we will promptly correct.
Information We Collect
General: When you register, and at other times, we may collect personally identifiable information from you that may include your name, address, telephone number, e-mail address, and facts about your computer. We do not, however, knowingly collect personal information from children under the age of thirteen. In addition, if a user is under 18, unless consent is obtained from your parent/guardian, you are not allowed to provide us with personal information.
Web Site Usage Information: We automatically collect IP addresses and Web site usage information from you when you visit our Web site. This information helps us evaluate how our visitors and customers use and navigate our Web site on an aggregate basis, including the number and frequency of visitors and customers to each Web page, and the length of their visits.
How We Use Information Collected
We may use information in the following ways:
For the purposes for which you specifically provided the information.
To send you e-mail notifications about our new or existing products and services, special offers, or to otherwise contact you.
To enhance existing features or develop new features products and services.
To allow us to personalize the content and advertising that you and others see based on personal characteristics or preferences.
We may combine the information that we collect from you on http://www.footloosegypsy.in with information that you provide to us in connection with your use of our other products, services and web site.
We may disclose and use personally identifiable information in special circumstances where it is necessary to enforce our Terms of Use (for example, when necessary to protect our intellectual property rights). We may also disclose or use your personal information when we, in good faith, believe that the law requires us to do so.
Cookies
We employ cookie technology to help visitors and customers move faster through our site. When you sign on to our Web site or take advantage of several key features, we may pass cookies to your computer. A cookie is a string of information that is sent by a Web site and stored on your hard drive or temporarily in your computer's memory.
Security
The personally identifiable information we collect about you is stored in limited access servers. We will maintain safeguards to protect the security of these servers and your personally identifiable information.
Internet-based Transfers
Given that the Internet is a global environment, using the Internet to collect and process personal data necessarily involves the transmission of data on an international basis. Therefore, by browsing http://www.footloosegypsy.in and communicating electronically with us you acknowledge and agree to our processing of personal data in this way.
Policy Modifications
We may change this Privacy Policy from time to time. We will post any changes here, so be sure to check back periodically. However, please be assured that if the Privacy Policy changes in the future, we will not use the personal information you have submitted to us under this Privacy Policy in a manner that is materially inconsistent with this Privacy Policy, without your prior consent.
­­Terms & Conditions
Booking Policy
1) Booking must be confirmed with 100 % payment before the trip.
2) To incorporate any changes to the itinerary before or during travel, full payment for the changes must be made.
3) We are sorry to inform you that Footloose Gypsy cannot be held accountable nor will bear the expenses / or loss of expenses therein for any changes / damages caused due to natural calamities, political unrest, erratic weather and personal health problems.
Cancellation Policy
1) Footloose Gypsy's cancellation policy applies only to the overhead costs and margins incurred.
i) 30 – 45 days prior to departure: 70% refund
ii) 15 days prior to departure: 50 % refund
iii) Less than 15 days / No-show: No refund
2) For all other costs, incurred where private companies have been engaged for travel and accommodation (includes flights, taxis, hotels, resorts, etc), their cancellation policies will apply and refunds will be allocated accordingly. Permits, visas and other legal documentation cannot be reimbursed.
Cancellation should be confirmed by mailing: amishms@footloosegypsy.in or by calling Amish Shah at +91-9922939584