The Mysteries of Ladakh and Kashmir

Here's a quick way in which you can tailor-make your holidays, pick the access and exit points that are most convenient, throw in a few activities and stopovers of interest, give us your budget outline, and we'll do the rest!
Access points – from where would you like to start your journey to Ladakh?
Srinagar airport, Kashmir
Leh airport, Ladakh
Chandigarh airport, Chandigarh
Stopovers – all the local places of interest
Srinagar (only if to/fro is from Srinagar):
Shalimar (Abode of Love) Bagh: This Mughal garden, once a pinnacle of Mughal horticulture, was built by Emperor Jahangir for his wife Noor Jahan. It still has the charm of the imperial residence and the Royal court it was in former times.
Chashme Shahi (Royal Spring): Through history the name Chashme Shahi has been corrupted after its discovery by a female Kashmiri saint, the royal spring and the gardens established around it are a marvel of Mughal and Persian architecture.
Nishat (Garden of Pleasure): Another large Mughal garden overlooking the Dal Lake.
Dal lake: also known as Srinagar's jewel, is surrounded by gardens and also hosts a few floating gardens. Cruising across the Dal lake on colourful houseboats or shikaras (a large wooden boat) is a popular tourist activity.
Shankaracharya Temple: also known as the Jyesteshwara temple or Pas-Pahar by buddhists, is a temple dedicated to Lord Shiva. The temple's history can be traced back to 200 BC. Though originally a Buddhist temple, Adi Shankara visited the temple and placed a shivlingam inside, making it a Hindu temple. Today, Hindu and Buddhist pilgrims offer their prayers at the shrine.
Hazrat bal Mosque: Kashmir's most sacred Muslim shrine, said to possess a relic "Moi-e-Muqqadas", believed by many Muslims of Kashmir to be a hair of theIslamic prophet Muhammed. The colourful history of the relic makes for an interesting read and the mosque lends itself beautifully to its name, meaning "holy place".
Pir Panjal mountains: The beauty of the Dal lake and Srinagar is undoubtedly the majestic Pir Panjal range that commands the horizon. The largest range in the lower Himalayas, the Pir Panjal stretches across the disputed regions between India and Pakistan, yet is revered by both sides and has rich folklore. It gives birth to several rivers that irrigate the mountainsides and valleys.
Kargil (only if to/fro is from Srinagar):
Kargil or Purig, the second largest town in the state, achieved the status of a capital under the banner of Sultan Gasho "Thatha Khan" who united warring principalities. Yet, today one remembers Kargil more for the Kargil War, a conflict between India and Pakistan along the Line of Control (LoC). The visit would include the famous peaks namely Tiger hill and Tololing peak, as also the Kargil War Museum.
En route from Kargil to Leh only:
Lamayuru Monastery: folklore claims that an Indian scholar, Mahasiddhacarya Naropa (956-1041 CE), founded the Lamayuru Monastery in place of a lake that nestled in the valley. It is one of the largest and oldest gompas in Ladakh, and makes for an interesting visit.
Magnetic hill: As the name suggests, this hill is believed to have magnetic properties strong enough to pull cars uphill, while in fact, this is a purely optical effect caused by layout of the surroundings.
You can be the judge of the phenomenon, and ask your car to turn off its engine when you visit.
Gurudwara Pathar Sahib: This gurdwara was built in 1517 to honour the visit of Guru Nanak Dev, the founder Guru of the Sikhism. The gurdwara houses a boulder with an unusual legend, and is witness to the secular history of Kashmir.
Sangam point: as the name suggests, the Sangam point is a confluence of the Indus and Zanskar rivers.
Hall of Fame Museum: with Leh's troubled past of wars and conflicts, this museum constructed and maintained by the Indian army, is in memory of the soldiers who lost their lives in the Indo-Pak wars. It is a grim yet important reminder of the heroes who have shaped India's history.
Leh Sightseeing:
Shey Palace: Shey, an old summer capital of the upper Ladakh region, saw the construction of a palace and a monastery in 1655. The monastery houses a giant copper with gilded gold statue of a seated Shakyamuni Buddha, a sage revered by the Sakya people residing in the Himalayan foothills.
Thikse Gompa (monastery): this monastery dedicated to Maitreya Buddha, is noted for the largest statue in the region, as also several stupas and artefacts like thangka paintings and swords. Smaller shrines dedicated to Tara, a female deity and Cham-spring, the protector deity of Thikse, also add charm to this monastery.
Shanti Stupa: in a landscape peppered with stupas and chortens, the Shanti stupa, built by the Japanese and Ladakhi buddhists, is a commanding sight. It was built to resurrect Buddhism in India, and holds relics of the Buddha at its base, which were placed by the 14th
Dalai Lama himself. It is a symbol of world peace and prosperity and commemorates 2500 years of Buddhism.
Druk Padma school: this school was established at the request of the Ladakhi people to help maintain rich cultural traditions based on Tibetan Buddhism, while equipping their children for a life in the 21st century. The word "padma", meaning white lotus, is an important symbol in Buddhism, signifying a purity of mind and spirit, and the school's ideology beautifully illustrates this. A recent Hindi film, 3 idiots was shot at this location.
Leh – in and around:
Khardungla Pass:
Between Leh to Nubra Valley, one crosses the highest mountain pass, the Khardungla pass at an altitude of 18380 ft. This pass has a strategic importance as it is the only thoroughfare for army supply lines, for those posted at Siachen Glacier, on the Indo – Pakistan border.
Hunder: Deskit Gompa, is the oldest and largest Buddhist monastery (gompa) in the Nubra Valley of Ladakh. It is owned by the Gelugpa (yellow hat) sect of Tibetan Buddhism. Apart from Buddhist statues and artefacts, the monastery is believed to possess the wrinkled head and hand of an evil anti-Buddhist Mongol demon who once lived, was killed and resurrected several times in this valley. The monastery's roof offers spectacular views of the Nubra valley below.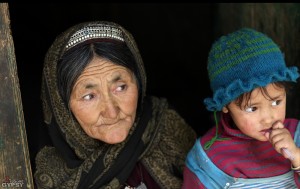 Turtuk: Turtuk Yol and Farol, tiny villages on the Pakistan borders are inhabited by people of Aryan blood. The villagers communicate in Balti, a language spoken widely in the neighbouring Baltistan, a mountainous northern region of Pakistan. It is interesting to experience this osmosis of cultural and lingual heritage between warring countries. Turtuk, also plays host to Balti festivities, showcasing the Talwar dance among others, remnants of the Baltistan culture. The visit would also entail the Turtuk viewpoint, which offers sweeping views of the valleys, fridge point (an inexplicably cold alley, used by the locals as a larder for curds and butter) and Mohammed Khan's house that showcases the history of an ancient Muslim dynasty. A 4 hour trek allows one to glimpse the Karakoram ranges, and a splash at an en route waterfall.
Scenic saline lakes (residues of the Tethys Sea):
Pangong Tso: meaning long, narrow, enchanted lake in Tibetan is rather apt for the beautiful lake stretching between India and Tibet. Despite being a trans-boundary wetland in disputed territory, it is a peaceful breeding ground for several bird species (bar-headed geese, brahminy ducks) and the banks host rare marsh grasses and mammal populations (kiang, marmot).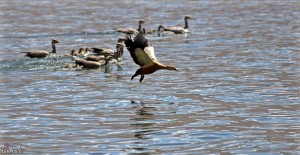 Tso Moriri: A marshy remnant lake fed by streams, the Tso Moriri is another wetland conserved as a Ramsar site. While the lake has very little nutrients to support life, the marshy vegetation on the banks hosts a rich diversity of mammals and birds. The drive to Tso Moriri is one of the most beautiful in the Ladakh regions.
Tso Kar: A salt lake of south Ladakh, girded by the peaks of Thugje and Gursan, is another rich biodiversity zone. Not protected as yet, it may soon be included within a national park boundary.
Activities – all the crazy activities that we can organise for you, to add some adventure to your journey
Camel safari at Hunder: From the 17th century till India's partition in 1947, the Bactrian camel, a double-humped variety native to Central Asia with a tolerance for cold, drought and high altitudes, was used as a pack animal by traders along the Silk Route. A camel safari is a fun and bumpy way to explore the landscape of sand dunes and mountainsides.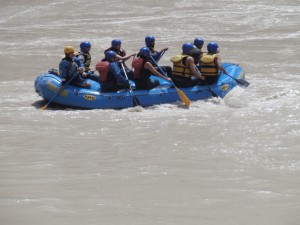 White-water rafting on Zanskar / Indus river, Ladakh or Pahalgam / Sonamarg, Kashmir: to be swept away by the giddying force of a river as it plunges from mountaintops into the valley, surrounded by the splendour of the snow-capped Himalayan ranges, river-rafting cannot get any more thrilling. If you seek adventure, the rapids across these rivers would be your best bet.
Camping at Jingchen: for those who love to rough it out, camping at Jingchen is a great way to experience the outdoors. With the Jingchen river carving out a gorge nearby, and a horizon dominated by snow-capped ranges, this the perfect stop-off en route to Leh.
Local market shopping at Leh: for the curious and the culturally-inclined, shopping at the Leh market offers an interesting glimpse into local wares and lifestyles. Discover local produce, from fruits to meat and local handicrafts and interact with villagers, a perfect way to understand and experience Leh culture.
Paragliding at Solang Valley (only if to/fro is from Manali): though the views of the Himalayas from the valleys are spectacular enough, an even greater thrill awaits: a bird's eye view! Paragliding at Solang Valley offers a giddying view of the Himalayas peaks as one gently swoops into the valleys below.
Accommodation – there is a variety of accommodation available at each stopover, as per your budget, we can suggest the most viable for your journey
Exit points – where would you like your journey to end?
Leh airport, Ladakh
Chandigarh airport, Chandigarh
—————————————————————————————————————
Privacy Policy
Footloose Gypsy is committed to maintaining the privacy of personal information that you provide to us when using the Footloose Gypsy website. This Privacy Policy describes how we treat personal information received about you when you visit www.footloosegypsy.in. We may make content or services from other web sites including our co-branded web sites available to you from links located on http://www.footloosegypsy.in. These other web sites are not subject to this Privacy Policy. We recommend that you review the privacy policy at each such web site to determine how that site protects your privacy.
Privacy Policy Promise
While information is the cornerstone of our ability to provide superior service, our most important asset is our clients' trust. Keeping client information secured, and using it only as our clients would want us to, is a top priority for all of us at Footloose Gypsy. Here then, is our promise to our individual customers:
We will safeguard, according to strict standards of security and confidentiality, any information our customers share with us.
We will limit the collection and use of customer information to the minimum we require to deliver superior service to our customers, which includes advising our customers about our products, services and other opportunities, and to administer our business.
We will permit only authorized employees, who are trained in the proper handling of customer information, to have access to that information. Employees who violate our Privacy Promise will be subject to our normal disciplinary process.
We will not reveal customer information to any external organization unless we have previously informed the customer in disclosures or agreements, or are required by law.
We will always maintain control over the confidentiality of our customer information. We may, however, share customer information with reputable companies when a customer has expressed an interest in their service or product. Please note that this Privacy Policy does not apply to these other company's use of customer information.
Whenever we hire other organizations to provide support services, we will require them to conform to our privacy standards and to allow us to audit them for compliance.
We will attempt to keep customer files complete, up-to-date, and accurate. We will tell our customers how and where to conveniently access their information (except when we're prohibited by law) and how to notify us about errors which we will promptly correct.
Information We Collect
General: When you register, and at other times, we may collect personally identifiable information from you that may include your name, address, telephone number, e-mail address, and facts about your computer. We do not, however, knowingly collect personal information from children under the age of thirteen. In addition, if a user is under 18, unless consent is obtained from your parent/guardian, you are not allowed to provide us with personal information.
Web Site Usage Information: We automatically collect IP addresses and Web site usage information from you when you visit our Web site. This information helps us evaluate how our visitors and customers use and navigate our Web site on an aggregate basis, including the number and frequency of visitors and customers to each Web page, and the length of their visits.
How We Use Information Collected
We may use information in the following ways:
For the purposes for which you specifically provided the information.
To send you e-mail notifications about our new or existing products and services, special offers, or to otherwise contact you.
To enhance existing features or develop new features products and services.
To allow us to personalize the content and advertising that you and others see based on personal characteristics or preferences.
We may combine the information that we collect from you on http://www.footloosegypsy.in with information that you provide to us in connection with your use of our other products, services and web site.
We may disclose and use personally identifiable information in special circumstances where it is necessary to enforce our Terms of Use (for example, when necessary to protect our intellectual property rights). We may also disclose or use your personal information when we, in good faith, believe that the law requires us to do so.
Cookies
We employ cookie technology to help visitors and customers move faster through our site. When you sign on to our Web site or take advantage of several key features, we may pass cookies to your computer. A cookie is a string of information that is sent by a Web site and stored on your hard drive or temporarily in your computer's memory.
Security
The personally identifiable information we collect about you is stored in limited access servers. We will maintain safeguards to protect the security of these servers and your personally identifiable information.
Internet-based Transfers
Given that the Internet is a global environment, using the Internet to collect and process personal data necessarily involves the transmission of data on an international basis. Therefore, by browsing http://www.footloosegypsy.in and communicating electronically with us you acknowledge and agree to our processing of personal data in this way.
Policy Modifications
We may change this Privacy Policy from time to time. We will post any changes here, so be sure to check back periodically. However, please be assured that if the Privacy Policy changes in the future, we will not use the personal information you have submitted to us under this Privacy Policy in a manner that is materially inconsistent with this Privacy Policy, without your prior consent.
Terms & Conditions
Booking Policy
1) Booking must be confirmed with 100 % payment before the trip.
2) To incorporate any changes to the itinerary before or during travel, full payment for the changes must be made.
3) We are sorry to inform you that Footloose Gypsy cannot be held accountable nor will bear the expenses / or loss of expenses therein for any changes / damages caused due to natural calamities, political unrest, erratic weather and personal health problems.
Cancellation Policy
1) Footloose Gypsy's cancellation policy applies only to the overhead costs and margins incurred.
i) 30 – 45 days prior to departure: 70% refund
ii) 15 days prior to departure: 50 % refund
iii) Less than 15 days / No-show: No refund
2) For all other costs, incurred where private companies have been engaged for travel and accommodation (includes flights, taxis, hotels, resorts, etc), their cancellation policies will apply and refunds will be allocated accordingly. Permits, visas and other legal documentation cannot be reimbursed.
Cancellation should be confirmed by mailing: amishms@footloosegypsy.in or by calling Amish Shah at +91-9922939584