Teesta trail: Sikkim – Darjeeling
Here's a quick way in which you can tailor-make your holidays, pick the access and exit points that are most convenient, throw in a few activities and stopovers of interest, give us your budget outline, and we'll do the rest!
Access points – from where would you like to start your journey to Sikkim – Darjeeling?
Bagdogra airport, West Bengal
Drive from Bagdogra, West Bengal – Gangtok, Sikkim
Drive from Bagdogra, West Bengal – Kewzing village, Sikkim
Stopovers – all the local places of interest
Gangtok sightseeing:
Rumtek Monastery: Sikkim's largest monastery, the Rumtek Monastery also known as the Dharmachakra centre is the seat of the Karmapa Lama, the third highest monk in Tibetan Buddhism. Rebuilt over former ruins as a seat of exile with relics from Tibet, by Sikkim royals and the Indian government it has witnessed disagreements and violence between two different Buddhist sects. It is considered to be a centre of spiritual learning and accomplishment.
Ganesh Tok: What better way to see Gangtok, than a bird's eye view? Ganesh Tok, a few kilometres outside the city, is the highest point in Gangtok and it offers spectacular views of snow-capped peaks, pine forests and colourful lifestyles of the inhabitants. A small Ganesh temple, souvenir and traditional dress shops make this an interesting stopover.
Hanuman Tok: Unusual, as it is to see a Hindu temple in a Buddhist landscape, it is more unusual yet to see a temple managed and maintained by resident units of the Indian Army. As the name suggests, this temple is dedicated to Lord Hanuman, the son of Vaayu, the wind god, and the cool mountain breezes at this altitude of 7,200 ft seem to attest to his favour.
Tshangu lake: On the road winding its way from Gangtok to
Nathu La Pass on the Indo – Sino border, is the Tshangu Lake fed by glacial streams and venerated by Hindus and Buddhists. Here the yak has been domesticated and is used as a pack animal, sometimes even for tourist rides. Yak milk cheese is an important local produce and the chewy blocks can keep one's jaw busy for hours on end (any wonder what keeps local yak herders busy?) Keep an eye out for the road signs along the route by the Border Road Organization (BRO), they make for the most amusing reads!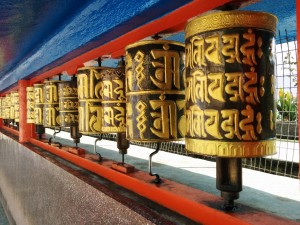 Other sights include the Do-Drul Chorten, a stupa with 108 prayer wheels, the Jhakri waterfalls, with a park illustrating the Jhakri lifestyle, the Directorate of Handicraft & Handloom, an interesting insight into local crafts and textiles (for the shopaholics: elegant hand-carved folding tables (Choktse), hand-loom carpets, hand-painted masques, shawls, traditional paintings, wooden dolls are the perfect buys!) and if you're lucky to visit between February and March (the dates change each year) the International Flower show, organised every year by the Government of Sikkim to showcase the rich biodiversity of the region.
West Sikkim
Pemalingpa monastery, Peeling: This tiny monastery in Peeling, is famous for its magnificent view of the Khanchendzonga ranges, swathed in lush green forests and hosting numerous gushing waterfalls. A little haven of peace and tranquility, where one can let the sounds of nature take over.
Buddha Park at Ravangla: Buddha Park hosts a 130-foot high statue of Lord Buddha, built to mark the 2550th birth anniversary of Gautama Buddha and consecrated by His Holiness the 14th Dalai Lama. This site, along with other pilgrimage sites are part of the 'Himalayan Buddhist Circuit'.
Peeling sightseeing: Though a tiny village on the outskirts of Gangtok, Peeling's geographic location makes for an interesting sightseeing detour. The local sights include Rimbi waterfalls, Rimbi rock garden, Kechopalri lake (one of many Holy Buddhist Lakes, that has gained renown for granting wishes), Kechopalri Monastery and Khanchendzonga Waterfalls.
Yuksom: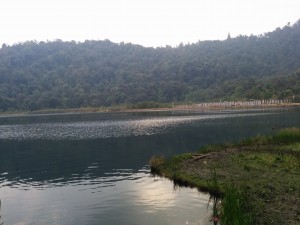 Yuksom is the gateway to the Dzongri Gochela trek. The sightseeing trail covers the sacred Kartok lake named after one of three lamas, who coronated the king of former sovereign Sikkim, the Phamrong waterfall, West Sikkim's highest waterfall, and the Dubdi monastery, a 17th Century establishment that played a vital role in the founding of Sikkim as a state.
North Sikkim
En route from Gangtok to Lachung:
The drive from Gangtok to Lachung take one across Yumthang valley, a scenic pastureland on the banks of the river Teesta. The valley (also known as the Valley of Flowers) hosts a multitude of rhododendron, and the Singba Rhododendron Sanctuary is a great stopover to see 24 species of these wild, poisonous mountain flowers, also poppies, irises and other flora. En route, the zero-point (otherwise going by the unpronounceable name of Yumasongdeong), lies at over 15,000 feet, and experiences sub-zero temperatures. Amidst the panoramic views of snow-capped peaks, nature has a surprise in store: a hotwater spring, to thaw you out.
En route from Lachung (8,000 feet) to Chungthang:
Tashi and Singhik viewpoints: The Tashi and Singhik viewpoints, are one of the most popular photography spots in the Sikkim Himalayas overlooks the peaks of Mt. Khanchendzonga and Mt. Siniolchu. Morning views are the most beautiful, unless the clouds have conquered the valleys. A popular picnic spot, it has a small, well-stocked cafeteria and small shops with local handicrafts.
Bhim Nala, Seven Sisters' and twin water falls: The Himalayas, an upheaval of coastland to form the highest mountains in the world, also host spectacular waterfalls, where the uneven geology causes rivers to plunge into valleys below. Bhim Nala, perhaps named after Bhima, for its sheer size, the Seven sisters' waterfalls where 7 chutes plummet down the cliffside and the twin waterfalls, make for breathtaking views en route.
Pemayangtse Monastery:
one of the oldest monasteries in Sikkim, the Pemayangtse Monastery lies at an altitude of 2200 metres. With a rich history that includes two earthquakes, and with its notable collection of ancient Buddhist antique idols, scriptures as well as sculptures and decorated paintings, the Monastery is a must-see. Watching the sunset-gilded Himalayas and a session of evening prayers with the monks makes for an indescribable spiritual experience. For the adventurous, a walk through the heritage forest to Rabantse, the one time capital of the Kingdom of Sikkim, is also an interesting past-time.
Rinchenpong: The cultural experience of Sikkim would not be complete without exploring local hamlets and trying out home cooked Sikkimese food. A stopover at Rinchenpong, allows for a short trek to Rinchenpong Monastery and Reshung Gompa, and witness the culture of a minority tribe in the Lepcha village, an animistic community with rich folklore.
Chungthang to Lachen: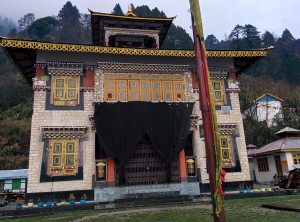 Chungthang, a town that lies between the confluence of the Teesta's distributaries, and two diverging roads leading to places bearing the rivers' names: Lachen and Lachung. Chungthang has an interesting history in Buddhist and Sikh lore, and the valley is considered to be blessed by Guru Padmasambhava and Guru Nanakji. The route towards Lachen, following the river traverses across hilly terrain with rice paddies, and hosts a plethora of biodiversity. An overnight at Lachen is the perfect way to enjoy this offbeat location.
Gurudongmar lake: a day's excursion from Lachen, Gurudongmar lake, located at the base of a mountain of the same name, is one of the highest lakes in the world (located at an altitude of 17,100 ft or 5,210 m). One of the sources of Teesta river, the water is considered sacred after Guru Nanak proclaimed that "whosoever takes the water of this lake will gain virility and strength and will be blessed with children", a gurudwara stands witness to this historic moment in Sikhism.
Darjeeling, West Bengal
With an awe-inspiring location, commanding views of the glacial Himalayas and its spring-fed rivers, Darjeeling has retained its charm as the most popular hillstation in West Bengal. Its rich colonial history has made it a hub for Catholic residential schools and great bakeries, and of course, a panoply of tea plantations. Local sightseeing is never complete without watching the spectacular sunrise over Mt. Khanchendzonga (at 28,208 ft, it is the world's 3rd highest peak) from Tiger Hill. When the skies are clear, one can also see the tip of Mount Everest (one can never be too sure, as all mountaintops look the same, but hopefully the locals know!) Other sights include the Ghoom Monastery (a Buddhist monastery built in 1850), the Batasia Loop (a spiral railway track winding its way through a tunnel), the Himalayan Mountaineering Institute, the P.N. Zoological Park, Tenzing Rock (named after Tenzing Norgay, the legendary guide of the first Everest mission), the Tibetan Refugee self-help centre (where one can pick up interesting local handicrafts), the Tea Garden, the Ropeway and the Japanese Temple.
Kalimpong, West Bengal: Kalimpong, in West Bengal, a state with a largely deltaic landscape, is unusual in that it is a hillstation. Playing host to ethnic minorities like the Lepchas, Nepalis and a Buddhist religious centre, Kalimpong is a popular tourist destination. A temperate climate has made horticulture a major economic activity, and Himalayan orchids find a market worldwide. A colonial history has seen the establishment of educational institutes, which lend the hillstation a quaint charm. A sightseeing circuit covers temples, gompas (monasteries) and churches, a nature interpretation centre and a local arts and crafts centre.
Activities – all the crazy activities that we can organise for you, to add some adventure to your journey
As this circuit takes you across a cultural tapestry, the activities include scenic drives, local sightseeing and shopping, sunrise / sunset viewing, waterfall dips, Monastery and chorten visits.
Rafting on Teesta: the Teesta river carves its way through forested Himalayan valleys and it offers an adventure like no other. White-water rafting along the Teesta gives you the chance to splash downstream, through turbulent rapids into tranquil meadows.
Accommodation – there is a variety of accommodation available at each stopover, as per your budget, we can suggest the most viable for your journey
Exit points – where would you like your journey to end?
 Darjeeling – Bagdogra
Bagdogra airport
—————————————————————————————————————
Privacy Policy
Footloose Gypsy is committed to maintaining the privacy of personal information that you provide to us when using the Footloose Gypsy website. This Privacy Policy describes how we treat personal information received about you when you visit www.footloosegypsy.in. We may make content or services from other web sites including our co-branded web sites available to you from links located on http://www.footloosegypsy.in. These other web sites are not subject to this Privacy Policy. We recommend that you review the privacy policy at each such web site to determine how that site protects your privacy.
Privacy Policy Promise
While information is the cornerstone of our ability to provide superior service, our most important asset is our clients' trust. Keeping client information secured, and using it only as our clients would want us to, is a top priority for all of us at Footloose Gypsy. Here then, is our promise to our individual customers:
We will safeguard, according to strict standards of security and confidentiality, any information our customers share with us.
We will limit the collection and use of customer information to the minimum we require to deliver superior service to our customers, which includes advising our customers about our products, services and other opportunities, and to administer our business.
We will permit only authorized employees, who are trained in the proper handling of customer information, to have access to that information. Employees who violate our Privacy Promise will be subject to our normal disciplinary process.
We will not reveal customer information to any external organization unless we have previously informed the customer in disclosures or agreements, or are required by law.
We will always maintain control over the confidentiality of our customer information. We may, however, share customer information with reputable companies when a customer has expressed an interest in their service or product. Please note that this Privacy Policy does not apply to these other company's use of customer information.
Whenever we hire other organizations to provide support services, we will require them to conform to our privacy standards and to allow us to audit them for compliance.
We will attempt to keep customer files complete, up-to-date, and accurate. We will tell our customers how and where to conveniently access their information (except when we're prohibited by law) and how to notify us about errors which we will promptly correct.
Information We Collect
General: When you register, and at other times, we may collect personally identifiable information from you that may include your name, address, telephone number, e-mail address, and facts about your computer. We do not, however, knowingly collect personal information from children under the age of thirteen. In addition, if a user is under 18, unless consent is obtained from your parent/guardian, you are not allowed to provide us with personal information.
Web Site Usage Information: We automatically collect IP addresses and Web site usage information from you when you visit our Web site. This information helps us evaluate how our visitors and customers use and navigate our Web site on an aggregate basis, including the number and frequency of visitors and customers to each Web page, and the length of their visits.
How We Use Information Collected
We may use information in the following ways:
For the purposes for which you specifically provided the information.
To send you e-mail notifications about our new or existing products and services, special offers, or to otherwise contact you.
To enhance existing features or develop new features products and services.
To allow us to personalize the content and advertising that you and others see based on personal characteristics or preferences.
We may combine the information that we collect from you on http://www.footloosegypsy.in with information that you provide to us in connection with your use of our other products, services and web site.
We may disclose and use personally identifiable information in special circumstances where it is necessary to enforce our Terms of Use (for example, when necessary to protect our intellectual property rights). We may also disclose or use your personal information when we, in good faith, believe that the law requires us to do so.
Cookies
We employ cookie technology to help visitors and customers move faster through our site. When you sign on to our Web site or take advantage of several key features, we may pass cookies to your computer. A cookie is a string of information that is sent by a Web site and stored on your hard drive or temporarily in your computer's memory.
Security
The personally identifiable information we collect about you is stored in limited access servers. We will maintain safeguards to protect the security of these servers and your personally identifiable information.
Internet-based Transfers
Given that the Internet is a global environment, using the Internet to collect and process personal data necessarily involves the transmission of data on an international basis. Therefore, by browsing http://www.footloosegypsy.in and communicating electronically with us you acknowledge and agree to our processing of personal data in this way.
Policy Modifications
We may change this Privacy Policy from time to time. We will post any changes here, so be sure to check back periodically. However, please be assured that if the Privacy Policy changes in the future, we will not use the personal information you have submitted to us under this Privacy Policy in a manner that is materially inconsistent with this Privacy Policy, without your prior consent.
Terms & Conditions
Booking Policy
1) Booking must be confirmed with 100 % payment before the trip.
2) To incorporate any changes to the itinerary before or during travel, full payment for the changes must be made.
3) We are sorry to inform you that Footloose Gypsy cannot be held accountable nor will bear the expenses / or loss of expenses therein for any changes / damages caused due to natural calamities, political unrest, erratic weather and personal health problems.
Cancellation Policy
1) Footloose Gypsy's cancellation policy applies only to the overhead costs and margins incurred.
i) 30 – 45 days prior to departure: 70% refund
ii) 15 days prior to departure: 50 % refund
iii) Less than 15 days / No-show: No refund
2) For all other costs, incurred where private companies have been engaged for travel and accommodation (includes flights, taxis, hotels, resorts, etc), their cancellation policies will apply and refunds will be allocated accordingly. Permits, visas and other legal documentation cannot be reimbursed.
Cancellation should be confirmed by mailing: amishms@footloosegypsy.in or by calling Amish Shah at +91-9922939584