Goecha La to Dzongri trek
Day 1 – Yuksom to Tshoka (17 kms)

Winding its way through Sikkim, a motorable road stops short at Yuksom, the former state capital, its advent challenged by the rugged mountains carpeted with lush forests. The Goecha La – Dzongri trek begins at this historic town, Yuksom, literally "the meeting place of the three learned monks", and the Bhutia community are stakeholders in preserving the biodiversity of the Khangchendzonga National Park.
After buying provisions, we met up with local porters and their yaks to discuss the economics of carrying daily rations throughout the trek.
Thus prepared, we entered the green kingdom of Khangchendzonga National Park. A small environment entrance fee ensures the well-being of the local community and helps them maintain the premises for the numerous tourists who visit each year. Khangchendzonga National Park's main attraction are the rhododendrons that bloom in profusion on the alpine slopes, and over 550 species of birds, both of which delighted us on our way into the forests. Every now and then, a burst of colourful rhododendron blossoms in an otherwise dark forest was a sight to behold. As our shoes crunched along the stony paths, birdsong erupted from above, yet the dense canopy make it impossible to catch sight of the birds.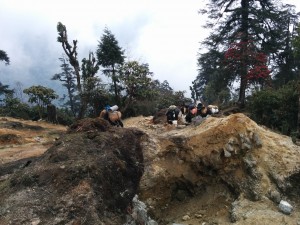 The path continued through mixed forest of oak, fir, birch and willow, passed gushing waterfalls and stone bridges. Sachan, a stopover en route to Tshoka, for those less inclined or too weary to finish the 17 kilometer trek. Bakkhim, 2 kms before Tshoka, is another possible campsite along the way. There is a logger's hut for the intrepid traveler to camp in. It is also the last place with phone connectivity. We continued on till Tshoka, just as dusk stole over the horizon.
Day 2 – Tshoka to Dzongri (10 kms)
We packed our overnight sprawl of tents, bags and provisions and climbed towards Dzongri. It was a rather uphill journey past pink rhododendrons and alpine forests, with giddying views of gushing rivers carving their way through steep mountain slopes. Slowly the forests became more sparse, and we trekked across bare mountain sides. It seemed like snowdrifts and rain had paved the tracks before us. Phedang, a possible campsite or a halt, offers panoramic views of Mt. Pandim, a snow-capped peak  6,691 m (21,952 ft) above sea level. As we climbed towards Dzongri, more jagged mountain ranges appeared on the horizon. Dzongri, with its logger's hut, small provision stores and colourful Tibetan flags, was a stopover that skimmed the heavens.
Day 3 – Dzongri – Tangsing
While the nippy mountain air and long, tiring treks make one unwilling to leave the sleeping bag, Dzongri offers spectacular, unmissable views of the sunrise over the Kanchenjunga range. Unable to resist this temptation, we got out of our sleeping bags during the wee hours of the morning, made our way through a narrow pass and walked to Dzongri top. A pale blush spread over the mountain range, and the dark shadows crept away at the arrival of day. Our local guide pointed out the stalwarts, Mt Kabur, Mt Narsing and Mt Pandim, as each came into view. The dawn burst into a fiery morning, and the horizon opened up before us, a panorama of bare, black mountains against a backdrop of snowy peaks.
After a hearty breakfast at Dzongri, we set our sights on Tangsing. Fresh green meadows with a sprinkling of blossoms, locally known as bugyals,
are considered to be Nature's own gardens. I could only imagine what they would look like when a million little flowers are in bloom, as it happens in summer. The descent led us to Kokchurong, another campsite with a logger's hut. The most enchanting thing about Kokchurong was that it was situated beside a glacial waterbody, yet we could not stop for long, as Tangsing was still an hour and a half's walk ahead.
Day 4 – Tangsing to Goecha La viewpoint 1 to Bakkhim
On waking up at Tangsing at 2 am, we shook off the previous night's dreams and wended our way towards Lamoni. An easy walk made tricky in torchlight, across terrain with huge, river-smoothened boulders took us past wooden bridges and frozen streams. From Lamoni,
the gradient became more uphill and half an hour later, we found ourselves looking at the wind-rippled surface of Samiti Lake, hemmed in by steep mountain faces. The break of dawn saw us climbing uphill from Samiti Lake to Goecha La viewpoint 1.
After a rigorous, uphill climb, the sight of dawn bleeding over the Kanchenjunga range, and scant clouds drifting languidly over the exalted, snowy peaks lifted our weary souls.
Another hour and a half's trek would have led us to Goecha La viewpoint 2, where the Kanchenjunga range seems even closer.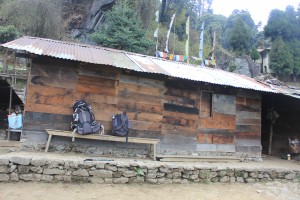 The Goecha La pass itself is a short distance away, considered sacred by the Bhutia community, who offer prayers in a nearby cave. Eager as we were to edge closer to the Kanchenjunga range, a frozen ice bed lay between us, like an unfordable chasm. Ill-equipped as we were, without crampons, rope or ice sacks, we had to capture all the photos and memories we could, before heading back to Tangsing. A breakfast stop at Tangsing, a few hours of rest and we embarked on our return journey. From Kokchurong to Phedang, Tshoka and finally, camping overnight at Bakkhim.
Day 5 – Bakkhim to Yuksom
Another day, another rugged route through deep, mixed forests, past gurgling streams and wooden-plank bridges.
The music of the forests and the rhododendron blossoms, more heart-rending as I knew my little escapade into the unknown was ending and only a city's whirlwind lay ahead of me. Our yaks, perhaps taking the cue from their lighter load, seemed to hurry on towards Yuksom, where warm stables and hay awaited. We exited the Khangchendzonga National Park, and reached Yuksom by early afternoon. I was fortunate to have done this trail with some mercy from the rain gods, and was able to clearly see the Kanchenjunga range that may have otherwise been cloaked in clouds and mist. The best time for this trail is in April or May (when the rhododendrons bloom) or from September to early November. For those who want to leave their worldly woes behind, no other feeling compares to having conquered indomitable peaks and a commune with the uncharted heavens.