As an intrepid traveller, the chance of spontaneous travel is often a welcome delight, and the Sandakphu – Singalila trek had long been on my to-do list.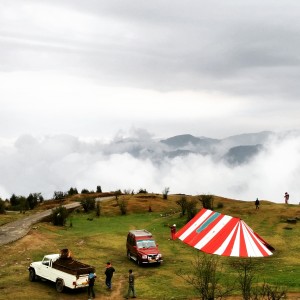 When Asha Bhat called, half adventurous, half cautious, with plans for Sandakphu – Singalila, I leaped at the opportunity to do another trek with views of the Kanchenjunga range. Asha and I made our way independently to the Tathagatha farmhouse, 20 kilometres away from Darjeeling, where an overnight stay on a tea plantation allowed us to hatch plans for the trail ahead. The next day, we hiked to Majithar to prepare ourselves for the rigours of the trek ahead.
The following day, we left Tathagatha farm with Pemba Da, our guide for the trail ahead and Naveen, a local who would support Asha over her first ever Himalayan trek. One can start this trek from Maney Bhanjang or Chitrey, and we chose the latter, as it shaved three kilometres off the trek, and we were entitled to be a little lazy.
Others who would like to see Kanchenjunga's panoramas but are unwilling to tackle the climb or wish to quit midway, some World War II 4 by 4 Land Rovers ply from Maney Bhanjang to Phalut. Brought to Darjeeling in the Fifties by British tea planters, the trusty Land Rover can negotiate dizzy mountainous curves with ease and serves as a lifeline in remote areas.
However, the age-old vehicles and the untarred, potholed roads make for such a bone-jarring drive that most prefer to sweat it out. After a visit to the monastery and a hot cuppa, at Chitrey, located at 2530 metres above sea level, we began the trail walking through clouds with a tattered blue sky above us and rolling meadows beneath. The eleven kilometres between Chitrey and Tumling, passed through conifer forests, bamboo glades, and a scattering of hamlets. We were fortunate to have chosen the months of April-May for the trail, as the mild weather makes for a pleasant hike and the mountainsides have much to offer those keen on nature, as we were soon to find out. Somewhere along the trail, we came across a beautiful Magnolia tree, leafless but bursting with white blossoms.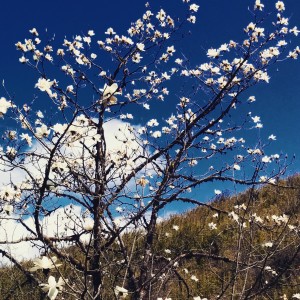 The Magnolia campbellii, as I was informed, grows in sheltered Himalayan valleys, and as the word "bhanjang" means valley, it seemed appropriate to find this tree here. Moreover, during the season, the valleys also play host to a variety of rhododendrons, and we set off again eager to see more. At Meghma, we stopped off for a well-earned rest, hot lunch and some frolic with the local children. From Meghma, the trail bifurcates, one road goes to Tonglu, offering a clear view of the Himalayas with a detour of 2 kilometres, or Tumling, our planned halt, a shorter distance away. The path between Meghma and Tumling violates all rules of international politics, located as it is along the India-Nepal border, and it winds merrily between the two countries. In Tumling, we stayed over at the Shikhar Lodge falling within Nepal's jurisdiction yet commanding a view of Kurseong, Siliguri and Pashupati. After a hearty meal of Tibetan Thukpa, and spicy peanut chutney, we tucked into our cosy rooms and slept.
Early next morning, we walked to the Tumling viewpoint to see the entire stretch of the Kanchenjunga range under clear skies. The honeydew sunlight spilled onto the stark peaks of Khangchendzonga, Makalu, Everest, Lhotse and the other, lesser summits of Sikkim and eastern Nepal, a sight that one can never get enough of. Several kilometres lay between us and our next base, Sandakphu, and we set off briskly towards the craggy horizon.
Apart from the snow-capped K-range and the many uphill paths, the pink, white and red blossoms of the rhododendrons of the Singalila National Park, took our breaths away.
The burst of colour set against green forests and blue mountains, seemed more lurid in the light of the little knowledge I had of rhododendrons as a poisonous plant used throughout history for overthrowing regents and conquering kingdoms. Three kilometres on, we came upon a higgledy-piggledy hamlet of Jaubari, located in Nepal, where a registration was necessary before the next leg.
Often we crossed paths with the Land Rovers, who told their own history in a Morse code of jumps and jolts. Three kilometres more, and the settlement of Gairibas offered us refreshments in the form of biscuits and tea. Tea had along such trails has a different taste altogether; tempered perhaps by the weather or our levels of fatigue, or the idea of being able to sip a hot cup, so much part of routine, yet in such unusual settings. Three and a half kilometres more brought us to Kalipokhri, meaning 'black lake' in the local tongue. The placid lake nestled amid brown hills, with a little stupa along its edge and fluttering Tibetan flags, already made us feel fortunate enough yet tossing a coin into the water as was custom, promised us a wish as well. I closed my eyes, thought about what I wanted and on opening them again, I realised that to be in that moment was more than I could wish for.
From Kalipokhri, the trail descended into Bikhe Bhanjang, meaning 'poison valley', vividly named so for the rhododendrons, before a steep uphill climb of four kilometres led us to Sandakphu. After a rigorous day, the Sunshine Hotel in Nepal, welcomed us in for the night. The next day, a misty valley thankfully of clouds rather than poison fumes as the name would suggest, lay before us. We gorged on pancakes with jam and honey before setting off to Phalut, our next base. Twenty one kilometres lay between Sandakphu and Phalut, yet the trail was a simpler, more languid one passing through burnished silver oak forests and meadows of grazing yak. The clouds that had thwarted a view of the sunrise over the K-range that morning, accompanied us along the way, and Creedence Clearwater Revival's Misty Mountain Hop would have made for a great background track.
En route, we stopped over at Sabargram for hot Wai Wai, a Nepal instant noodle brand that is finally making its way into Indian markets that has an unbeatable flavour after mountain treks. As twilight fell, we reached the Forest Department cottage in Phalut, where a night of revelry, pakodas, Hit Beer (Sikkimese for beer), khichdi and aloo sabzi awaited us. After another morning of mist, another missed sunrise and a breakfast of aloo paratha, a few kilometres of an uphill climb took us to the Phalut viewpoint. Here, we strung up our prayers flags at a stone-pile marking the borders of Sikkim, West Bengal and Nepal, and set off for Gorkhey.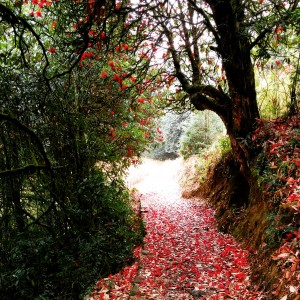 Phalut to Gorkhey is a downhill climb through more pine forests and rhododendron blossoms, with an occasional chestnut or hemlock (another poisonous tree, Agatha Christie could have based several murder mysteries in these sleepy looking hamlets!). Somewhere along the trail, the forest floor was strewn with rhododendron petals, more beautiful than autumn leaf-fall, and if I were the romantic kind, more inviting than a trail of rose-petals awaiting newlyweds. As the arching forest gave way to open farmland and rattan houses, we picnicked along the banks of a gurgling stream. We left behind small hamlets and reached Gorkhey's Eden Lodge, how apt, the trail today was surely a slice of Eden. As it was our last stopover, we had a momo party, washed down by Tongba, the local millet beer, as we sang songs around a bonfire late into the night. Our last leg of the trek was from Gorkhey to Sirikhola. A five minute uphill climb from Gorkhey took us to Samanden, a scenic village that offered us the last views of the valleys we were to leave behind.
The path from Samanden to Ramman, wended its way through alpine forests with thick leaf-falls. A quick splash in a rocky stream, and we climbed up to Ramman, a lovely little village with picturesque wooden houses and cobbled streets. From Ramman, a downhill trail led to Sirikhola. With a last, wistful look at the landscape, a sigh at another completed trek, we boarded the taxi to Darjeeling.
Of all the memories I carry back with me, of the trail, the people, the lofty Kanchenjunga, I would wish literature were more kind to rhododendrons, as it has been to the rose. While Wordsworth's heart sways with the daffodils, I left mine behind with the rhododendrons.